This is a ceremony in which mother's brother aka Mama, brings gifts for bride/groom. This ceremony takes place on both sides. This ceremony is done before the wedding day because some of the gift items from this ceremony are worn by the bride early morning on the wedding day.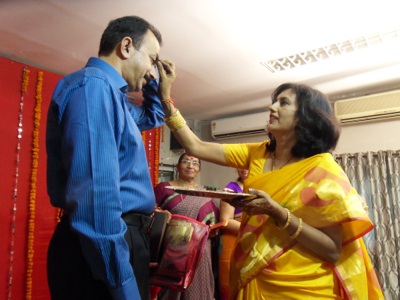 How is it performed
Traditionally a nice place is arranged for the family members of Mama to stay. In old days, the family of groom/bride used to go to Mama's place to invite them for Bhaat. They used to sing songs and Mama used to give sarees to all the ladies who came. Now the family member of groom/bride just invite Mama for Bhaat while they are already there.
There are certain things that are necessary to be given in Bhaat like bride's nose ring, toe rings (3 pairs), anklets, bride's saree, sister's saree and father's clothes. Brother covers the sister with her saree during Bhaat. The real Mama does all this. The cousin Mamas give some money in the tilak thali.
On an inside door to the main room, first the choukhat is decorated with rangoli made of wheat flour. Then a low stool (patra) is placed on this rangoli. Mama-Mami stand on this stool. Mother does Aarti of Mama and Mami. Then Mother performs Tilak with 4 laddoos, coconut and some money. Then Mother performs Tilak to all their kids with 4 laddoos and coconut each. Brother gives all the gifts as described above to sister at this time. Then Mother performs Tilak for other brothers.
After Tilak, Mama is taken inside along with their families. At this time Father's Sister aka Bua stands there with water jug. Mama puts money in that. Mama's family is served sweets and savories. At this time Mama gives Milni to all the adults of Father's side.