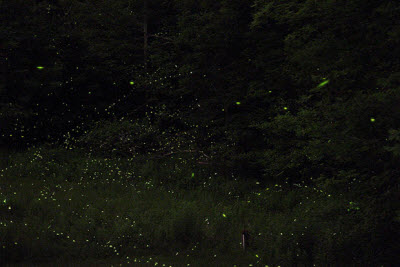 I have been watching a TV serial called "Siya Ke Ram" based on the epic Ramayana for the last few months. On Ram Navami in April, they showed an episode in which Sita wishes Ram a Happy Birthday by releasing the Jugnus or Fireflies in the air from her aanchal. It was mesmerizing. Evoked a lot of childhood memories when we used to see Jugnus every single day in the summers. Unfortunately the urbanization of the whole land has pushed them away and for the last 35 years I haven't seen any of them.
Anyways, the episode was soon forgotten. A few days after the episode, out of the blue, one of our friends roped us in for a Sikkim trip and we left the following week. We flew into the Baghdogra airport and drove to Sukna cantonment area, where our friends had arranged for a night halt. After settling in, all of us were taking a leisurely stroll in the evening when I mentioned the Jugnu episode to my friends. We were all telling stories of how we used to capture Jugnus and put them in a jar or how sometimes they got into our mosquito net at night while sleeping outside etc. We must have walked a few more steps and we were dumb stuck. There was a grassland full of Jugnus right in front of us.
I hadn't seen Jugnus in 35 years, then I see the Siya Ke Ram episode, out of the blue I get roped into a trip, our friends arrange for a night halt in the cantonment area near a dense forest, I mention this to my friends and there they are, right in front of us. How did this happen? Was it just a coincidence? I highly doubt it.
Was it that I wanted to see it so badly that the situation presented accordingly? But if that's the case then how come it does not happen for everything else we desire? What was different in this wish from all other wishes that we have in our lives? Is it that most our wishes normally have some side effects, which we are unable to comprehend and cosmos helps us by not fulfilling them and this wish was an innocent one which cosmos had no objection to?