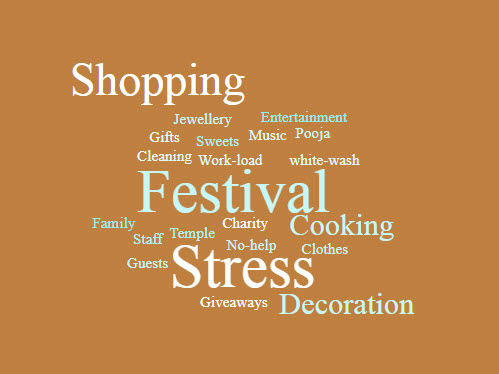 When Lord Ram returned to Ayodhya after 14 years of exile and the kingdom started running smoothly again, the courtiers suggested to Ram that they should perform the famous Ashwamegh Yagya to bring some excitement back in the lives of the common people. The purpose of the Yagya was not to win over other kingdoms but to do something new, which will cheer up the people and give them something to look forward to. The moral of the story is that the celebrations are meant to break the monotony and bring some excitement back in our lives. But are they?
In the ancient times, the festivals, the vrats and the poojas gave women a break from their daily routine. Everyone at home helped in decorating the house, they prepared the best dishes from the purest ingredients, donned their best clothes and enjoyed the event with the whole family and even neighbors. All this participation, preparation and bonding filled the house with pure, happy, bubbly vibrations and created the ambience of real fun and frolic not only on the festival day but throughout the preparation period.
In today's context, long working hours have left us no time to celebrate anything. Either we do it half-heartedly or we outsource all the arrangements. None of those give us the real happiness because in the first case we are too tired to spread any joy ourselves and in the second case the paid decorator, the paid caterer and the paid entertainer generate the vibrations of business rather than joy. So basically, the festivals have started to stress us out.
So what can we do? Well, the key is to remember that the process of planning and involving the whole family is more important than the actual celebration itself. Encourage kids to decorate and entertain creatively. Their contagious excitement will automatically generate the happy vibrations in your home. Second, keep it simple; don't get into the comparison game. Third, celebrate only as many festivals as you comfortably can. No point in trying to celebrate each and every festival and feeling exhausted.
Let's bring the magic of festivals back, the way it was meant to be.