Recently we celebrated our first Holi in India after coming back from US. Holi is the most colorful festival, when people throw colors on each other. So it was exciting to be celebrating it after 20 years. But as the day came closer, I started hearing from people that they were not planning to play Holi. Some said that they get allergies from the colors, others said that it's too messy and the colors don't come off for days. People started telling me that I should oil my hair and skin so that the colors do not stick. As I was hearing all this, my enthusiasm was slowly evaporating. Why will I want to play Holi, with all these hazards, I thought.
Then I noticed on Internet that some Holi events were going to use flowers instead of colors. It sounded like a great idea and I decided to give it a try. In the beginning, the family was a little skeptical. They started giving all sorts of arguments like what's Holi without colors or colors are actually auspicious etc. Undeterred, I bought 3 kgs of fresh flowers in different colors. On Holi day, we separated the petals of the flowers and started showering each other with the petals. It was so much fun. People actually wanted to get more petal showers unlike the regular colors from which they wanted to run away. Someone actually commented, "After my wedding, this is the first time that someone showered me with flowers". Wow! Our neighbors still used regular colors but we showered them with flowers and they all appreciated it.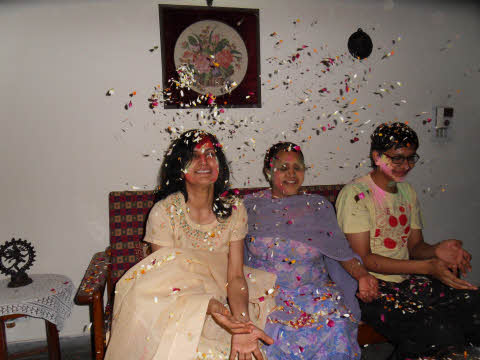 I must say that the experiment was successful. It was the best Holi ever – no skin rashes, no mess, no dodging of colors, nice natural fragrance and everybody felt good when showered with flowers. That's the way it's supposed to be. I am sticking with it forever, do you want to give it a try?