We moved to our new apartment last week, yeaaaaaaaay. For past few days, I have been on my feet the whole day, getting the stuff moved, unpacked and placed at proper place and my feet still hurt ;-(. Yesterday was the first day when I was at home alone and decided to take it easy. In the evening I was lighting a diya, (it's a daily ritual) and looked out of the window and suddenly it dawned on me that we are living in a metro. I could see a busy road with yellow head lights on one side and red tail lights on the other, a big bright bill board flashing on the side of the road and a zooming past metro on top, all from my dining area window on the 5th floor. It felt like I have seen this view before, perhaps in the movies like 'Life in Metro' and 'Wake Up Sid'. It was exciting to be reliving a scene from the movies 😉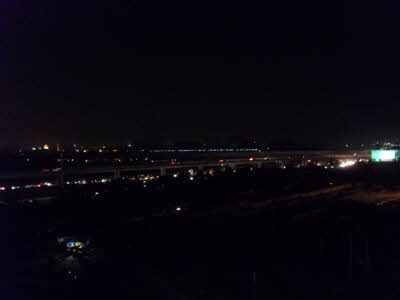 And here is the sunrise from the same place but looking in the other direction:
BTW, Wake Up Sid reminds me that in the movies, the way they show moving into a dilapidated apartment and then cleaning, painting, decorating it, all with smiley faces and then living happily after everything is done in a few days, in reality it's nothing like that. When you move in, you have a frown on your face, you are dead tired and decorating comes weeks after you move in because the first few weeks are spent in fixing the basic things like plumbing, electricity, gas etc.
Anyways, we are home. The basic things are functioning. The apartment complex is very nice with a lot of greenery, wide open spaces, a grocery store, a vegetable stand, a nice gym and a ping pong table (yeaaaaaaaay again). The maintenance and security staff seems helpful. Radio Mirchi is playing popular hits from 70s like 'aajkal tere mere pyar ke charche…', 'rim jhim ghire saawan…', 'aise na mujhe tum dekho…' as I am writing this blog. We already have a Diwali party invitation in the apartment complex itself – good going, isn't it?