It was Janmashtami last Friday, the 10th of August. We started our day with Kuttu Ki Pakori in the breakfast. No, we did not fast but who says that you cannot have Kuttu without fasting ;-). The pakoris were a hit and on popular demand, I had to prepare another batch starting from scratch again. In the evening we made Fruit Chaat and then Kuttu Ki Puri. Puris were too good, nothing was leftover for the breakfast ;-(.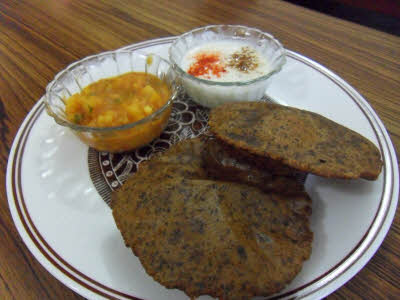 After dinner we went around the neighborhood to see the festivities. The temples were too crowded so we did not dare to enter the premises. Although we saw quite a few kids dressed up as Krishna and Radha outside the temples.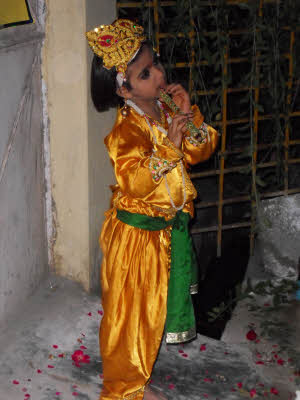 The highlight was the roadside Jhankis, put up by the neighborhood children. Those who don't know, Jhankis are basically recreating the scenes from past using anything you can lay your hands on like dirt, stones, figurines, toys and lights. It brought some sweet memories back from my childhood, when we used to set up Jhankis and have a friendly competition around the neighborhood for the best Jhanki.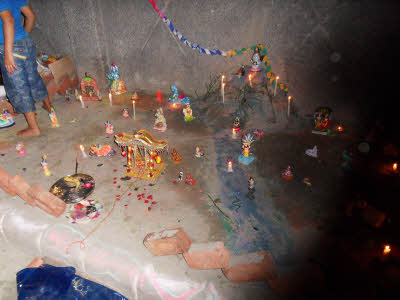 My elder brother Amit, used to be the architect for our Jhanki and I must say a fabulous one. I don't know from where he used to get the ideas but he knew exactly how everything needed to be built. We knew from the beginning that he will become an engineer when he grows up. All the neighborhood kids used to get together and follow his directions to come up with a great Jhanki. We used to pool some money to buy lots of kite paper and pastel paper and rest everything was improvised.

We used to have Goberdhan mountain in one corner, from where Yamuna river used to flow down across the room. Bhaiya used to fit a water pipe in the mountain and balance a Ping-Pong ball on the water stream just for fun. On one side of the river we used to build Vrindavan and Mathura on the other side. Obviously, Vrindavan used to have huts, trees, cows and villagers and Mathura used to have high rises. I don't know how my brother used to imagine all that because I know he had not seen any high rises before.

We also used to build a power house to run the factories and lights on the roads of Mathura. A shoe box used to be converted into a power house with a chimney. We used to light a dhoopbatti under the box and my brother used to fix a small toy fan in the box to suck in the air and keep the dhoopbatti burning and releasing the smoke through the chimney. He also used to prepare roadside light poles using thick aluminum wires with small bulbs tied on one end of the poles and make them stand on the road in dough balls. He was amazing, a real engineer at work even as a teenager.

The floor used to be covered with the wood powder colored in a variety of colors – green for the grass, black for the roads and red for showing the building compounds. The shoe boxes used to be covered with kite paper and we used to paste a lot of square papers on it for the windows. For people figures, we used to cut pictures from the magazines and stick card board on the back and make them stand like photo frames.

Decades later, these roadside Jhankis brought all these sweet childhood memories back. That reminds me, I need to call my brother and tell him how amazing he is. See ya…