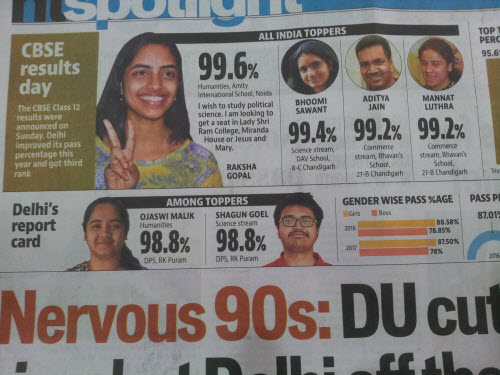 I was always the brightest student of my class growing up in Rishikesh. Since my father and brother, both graduated from IIT Roorkee, I too appeared in the entrance exam for IIT Roorkee along with my UP Board class 12 exams.
The results of the entrance exam came before IIT and I was selected. We all celebrated and eagerly started waiting for the class 12 results. At that time the results used to get declared in a separate newspaper and a very few copies of it used to get printed. The newspaper hawker used to go around showing the same newspaper to everyone in his territory and collected 5 rupees from everyone who passed and 10 rupees for a first class.
On the day of the results, the newspaper guy came to our house and showed us the newspaper. My mother and I started scanning the paper for my roll number but it was nowhere to be found. We scanned again and nothing. The newspaper guy was getting impatient because he knew he is not getting any money from this house. We were in shock. We started scanning again and suddenly my mother noticed a separate column where the top 10 students were listed and my name was third from the top. We were ecstatic. That was probably the first time when I experienced the tears of joy. The newspaper guy collected a much bigger amount and we were way too happy to oblige in any case.
I am still getting goosebumps as I am writing this years later. In 10 minutes period we had gone from expecting a first-class to failed to topped. It was scary for sure but made a great story for grandchildren, I must say.