Raksha Bandhan is a celebration of the affection between brothers and sisters. Sisters tie the silk thread called Rakhi on their brothers' wrists and pray for their well being and brothers promise to take care of their sisters.
When
The festival falls on the Shravan Purnima, which generally falls in the month of August.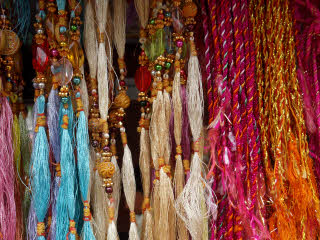 Significance
Raksha means protection and Bandhan means bond. On this auspicious day, brothers make a promise to their sisters to protect them from all harms and troubles and the sisters pray to God to protect their brothers from all evil.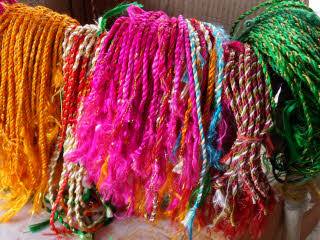 Rituals
It is customary to draw religious figures on the walls of the homes and worship them with offerings of vermilion and Seviyan.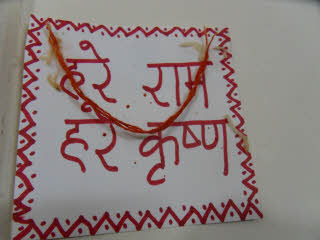 Seviyan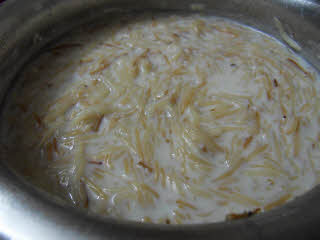 Sisters apply tilak on their brothers' forehead using roli and rice.

Then they tie the auspicious Rakhi thread on their brothers' wrists and pray for their happiness and long lives. Sisters also offer sweets to their brothers.
Brothers promise their sisters to protect them from every hardship of their lives and show their affection and thankfulness for their love. Sisters are pampered with Rakhi gifts. The gifts can be anything like dress, jewelry, soft toys or even cash. If brothers-sisters stay away from each other, the sisters send Rakhi to brothers by mail and brothers tie it on their wrists on the Raksha Bandhan day.
Philosophy
In olden days, the Brahmins used to go to each house and tie Rakhi thread on everyone's wrist – men or women. This symbolized the bond with Supreme Soul (Parmatma) to get his protection. Once a person has a bond with the Supreme Soul, he asks the person to vow for purity in thoughts, words and actions. Purity means becoming soul conscious, meaning treating everyone as a pure soul. Once people are soul conscious, they have no ego, so nothing hurts them, which means they are protected from everything.  
As people became body conscious, brothers started taking responsibility of the physical well being of their sisters, which is what we see in the modern world.