Teej is a festival for Hindu women. It is almost synonymous with the mehndi and the swings. It is celebrated mostly in North India but it's slowly dying. The main reason is that it's not a holiday for most working women so they don't have time to celebrate it.

It takes place on the third day of Shukla Paksha (bright moon fortnight) of the Shraavana or Saawan month of  Hindu calendar that normally falls between late July and early September.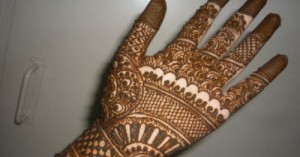 Significance
Dedicated to the Goddess Parvati, commemorating her union with Lord Shiva, the festival is celebrated for the marital bliss and the well-being of the spouse.
Teej Amongst the Baniya Community
Teej is an important festival amongst the baniya and marwari community. The festival is meant as a celebration for women. They decorate their palms with mehndi and sing special Teej songs on the temporary swings put on the trees. One of the meals is prepared as pakka khana (meaning puri/kachodi with curry and raita).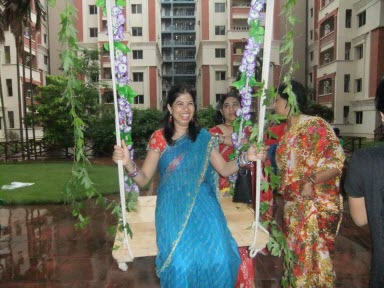 It is customary for mother in law to give the newly married daughter in law a piece of jewellery on her first Teej after her marriage. In the later years mother in law gives daughter in law bangles and bindis, basically symbolic things of a married hindu woman. These days they simply give them money so that they can buy things of their own liking. Daughters in law, take out Baina. Baina is a short pooja and a gift for mother in law.
Hope you are celebrating Teej like I am. If nothing else, prepare a special meal and don some mehndi.