Thape is the ceremony of groom's and bride's mothers making palm impressions on the wall. Halad is about grinding the spices and the grains.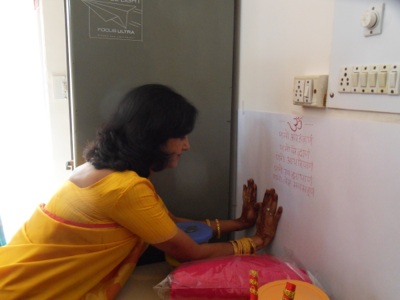 What is needed?
Big white plain paper, ghee, roli paste, 4 vessels, dry turmeric (not the powder), Rock salt (not the powder), Dhaan, Jau (barley), a vessel in which these will be ground, rice in a steel vessel and a saree for Bua.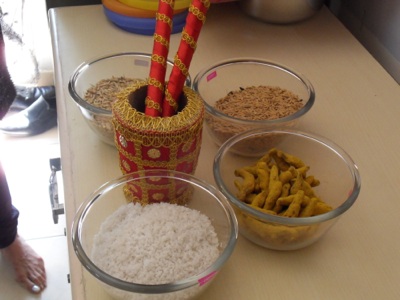 When is this done?
Thape are made after the Madha ceremony generally in the mornings. This is done in the main room, where all other ceremonies are performed.
How is it performed?
This is performed both at the groom's and bride's house. A big plain white paper is stuck on the wall. Gayatri Mantra or Ramokar Mantra is written on the paper with the help of roli paste. The mother rubs ghee on her hands and makes the hand prints on the paper. She needs to fast for this. Bride's/Groom's Aunties also help the mother and they need to fast too. All of them need to wear new clothes.
The four vessels are filled with turmeric, salt, dhaan and jau respectively. The rice vessel is placed in front of the paperand the saree is placed on top of it. All this is given to the Bua after the wedding.A pair of married women puts all the 4 things – turmeric, salt, jau and dhaan in the 4 vessels and then they grind it 7 times each alternatively. This process is repeated by 6 more pairs of married women.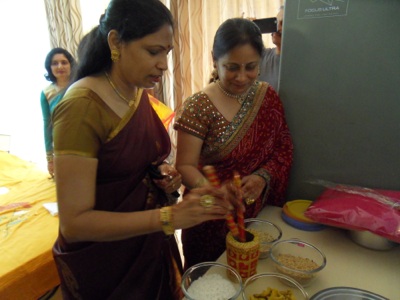 What is the reason behind Halad?
In the old days, all the spices and grains were ground at home. Since the wedding required the food preparations for a lot of people, the grinding of spices and grains started a month before the wedding. Generally all the ladies in the family got together to help. So Halad symbolizes the preparation of spices and grains.

In today's context, it's pretty much useless except that it brings everyone in the family together in the same room and keeps them busy otherwise they will all sit in small groups in different corners of the house and gossip.