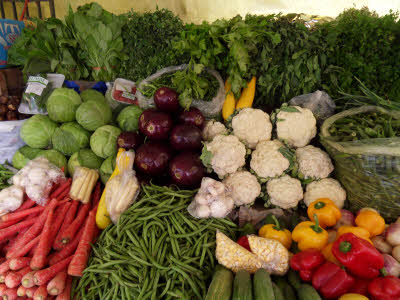 These days the vegetable market in India is overflowing with leafy green vegetables like spinach, mustard, methi and bathua. Most of these vegetables are available all year round, except bathua, which is available in winters only and probably that's the reason I love it the most. I think, earlier when the vegetables used to change as per the season, we enjoyed them more because we used to look forward to the new vegetables of the new season.
That reminds me of a funny story. My marriage was fixed in the month of March, to be married in May. I was working at Uptron, Lucknow and did not know any cooking at that time. Yeah yeah, you can laugh at me. First of all, I was too much into studies, sports and handicrafts so I never had the time for cooking. Secondly we always had a cook so I never needed to help in the kitchen. Anyways, since the wedding was only two months away, I decided that it's high time and I needed to learn cooking. So I told the cook that every day in the evening, he should do all the preparations for the cooking and then cook in front of me when I come back from the office so that I can watch and learn. The trick worked and I learnt all the basic preparations. Got married, and was able to manage the cooking in my own kitchen in Delhi.
Then the winters arrived and I realized that for some reason the food was not tasting as good, especially the new seasonal vegetable like bathua. At that time, we did not have the phone so I couldn't call up my Mom and ask for the tips. A couple of months passed and then finally my Mom came to visit me for a couple of days and I asked her. It turned out that bathua is prepared in a very different way and that's why it was not coming out well. Then I realized that since I learnt to cook in summers, I only knew how to cook the summer vegetables. I was trying to cook the winter vegetables like summer vegetables, which is fine in general but I did not know that special thing that is required in each of those vegetables to create the magic. For example, I did not know that cabbage needs amchur, or carrots need tomatoes or that bathua needs to be boiled first and so on, pretty funny.
The Y generation does not have this problem because first of all they get all the vegetables all the time, secondly they always have the Internet and they can find all their favorite recipes at www.ezpzcooking.com. However now they have a different problem. Now they can't tell the names of the raw vegetables, especially if they are other than beans, carrots, potatoes, onions, bell peppers and cauliflower 😉