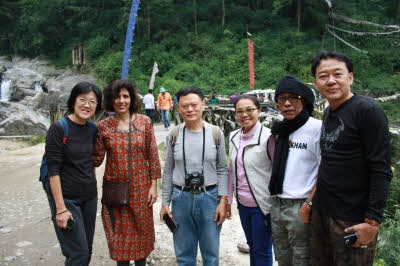 We were on a site seeing trip of Sikkim and drove around 150 km every day. It took us anywhere from 5 to 6 hours because the roads were really bad. We took a 10 minute break every 1 hour to stretch our legs and also to rotate the seating.
In one such break while going from Gangtok to Lachung, we were just chatting and taking pictures, when suddenly the traffic started to pile up on the highway because of our parked cab. The driver called us to cut short the break because of the jam. We agreed and hurriedly came back and drove away.
Driver stopped the cab some 30 minutes away at Mangan, a small town. He showed us a restaurant where we could eat and relax so we had a leisurely one hour lunch and walked back to the cab. As we were getting in, one of our friends realized that he didn't have his camera. We all searched the cab and the restaurant and there was no sign of it. And then we realized that perhaps we left it at the last break point because we hurriedly got into the car.
We were depressed. Not only the camera was lost but a lot of pictures in it were lost too. We started thinking if we should go back or call someone coming in that direction to check etc. The taxi driver said that someone must have definitely picked up the camera by now because it had already been one and a half hours. Interestingly he also said that everyone on that highway was going to Lachung and Lachung is a small place so we will get it back there. We didn't believe him for a second, we thought that he was saying it just because he did not want to go back.
As we were discussing our options, some more cabs started to come from the same direction and our driver started to ask them if they had the camera and lone behold the third taxi he asked actually had it. We were ecstatic.
The Koreans travelling in that cab were getting out when we were hurriedly getting into the cab on the last break point. They saw us leaving the camera behind and picked it up. Their taxiwala told them that all cabs on this highway were going to Lachung so they will find the right owner there. They checked the pictures in the camera to ensure that they deliver it to the right owner and the moment they saw us some 2 hours later, they knew that it was our camera.
Coming from Delhi, this was a refreshing experience. I could not have imagined this scenario even in my dreams. The people in small town still live simple and clean lives. May God bless them and bestow some of that in big cities also.