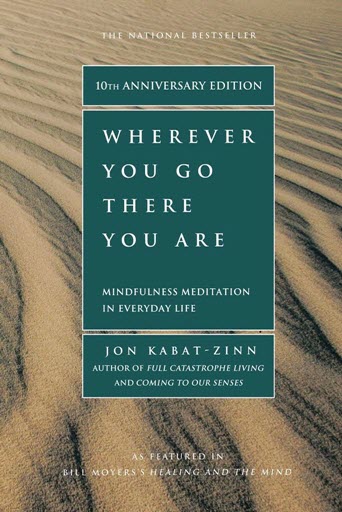 I recently listened to this audio book – Wherever you go there you are – Jon Kabat-Zinn. I found it to be a very easy read and the concept seemed pretty simple. I want to be able to refer to it every now and then hence these are my personal notes for future reference.
Part One explores the rationale and background for taking on or deepening a personal practice of mindfulness. It challenges the reader to experiment with introducing mindfulness into his or her life in a number of different ways. Part Two explores some basic aspects of formal meditation practice. Formal practice refers to specific periods of time in which we purposefully stop other activity and engage in particular methods of cultivating mindfulness and concentration. Part Three explores a range of applications and perspectives on mindfulness.
Part 1
What is mindfulness
Mindfulness means paying attention in a particular way: on purpose, in the present moment, and nonjudgmentally. When we commit ourselves to paying attention in an open way, without falling prey to our own likes and dislikes, opinions and prejudices, projections and expectations, new possibilities open up and we have a chance to free ourselves from the straitjacket of unconsciousness.
Simple but not easy
Meditation means learning how to get out of this current, sit by its bank and listen to it, learn from it, and then use its energies to guide us rather than to tyrannize us.
Stopping
TRY: Stopping, sitting down, and becoming aware of your breathing once in a while throughout the day. It can be for five minutes, or even five seconds. Let go into full acceptance of the present moment, including how you are feeling and what you perceive to be happening. For these moments, don't try to change anything at all, just breathe and let go. Breathe and let be. Die to having to have anything be different in this moment; in your mind and in your heart, give yourself permission to allow this moment to be exactly as it is, and allow yourself to be exactly as you are. Then, when you're ready, move in the direction your heart tells you to go, mindfully and with resolution.
This is it
Meditation is the only intentional, systematic human activity which at bottom is about not trying to improve yourself or get anywhere else, but simply to realize where you already are.

When we let go of wanting something else to happen in this moment, we are taking a profound step toward being able to encounter what is here now. If we hope to go anywhere or develop ourselves in any way, we can only step from where we are standing. If we don't really know where we are standing—a knowing that comes directly from the cultivation of mindfulness—we may only go in circles, for all our efforts and expectations. So, in meditation practice, the best way to get somewhere is to let go of trying to get anywhere at all.

TRY: Reminding yourself from time to time: "This is it." See if there is anything at all that it cannot be applied to. Remind yourself that acceptance of the present moment has nothing to do with resignation in the face of what is happening. It simply means a clear acknowledgment that what is happening is happening. Acceptance doesn't tell you what to do. What happens next, what you choose to do, that has to come out of your understanding of this moment. You might try acting out of a deep knowing of "This is it." Does it influence how you choose to proceed or respond? Is it possible for you to contemplate that in a very real way, this may actually be the best season, the best moment of your life? If that was so, what would it mean for you?
Capturing your moments
TRY: Asking yourself in this moment, "Am I awake?," "Where is my mind right now?"
Keeping the breath in mind
TRY: Staying with one full inbreath as it comes in, one full outbreath as it goes out, keeping your mind open and free for just this moment, just this breath. Abandon all ideas of getting somewhere or having anything happen. Just keep returning to the breath when the mind wanders, stringing moments of mindfulness together, breath by breath. Try it every once in a while as you read this book.
You can't stop the waves but you can learn to surf
Meditation is neither shutting things out nor off. It is seeing things clearly, and deliberately positioning yourself differently in relationship to them.
In praise of non doing
TRY: Recognizing the bloom of the present moment in your daily meditation practice if you have one. If you are up early in the morning, try going outside and looking (a sustained, mindful, attentive looking) at the stars, at the moon, at the dawning light when it comes. Feel the air, the cold, the warmth (a sustained, mindful, attentive feeling). Realize that the world around you is sleeping. Remember when you see the stars that you are looking back in time millions of years. The past is present now and here. Then go and sit or meditate lying down. Let this or any time you practice be your time for letting go of all doing, for shifting into the being mode, in which you simply dwell in stillness and mindfulness, attending to the moment-to-moment unfolding of the present, adding nothing, subtracting nothing, affirming that "This is it."
Doing non doing
TRY: During the day, see if you can detect the bloom of the present moment in every moment, the ordinary ones, the "in-between" ones, even the hard ones. Work at allowing more things to unfold in your life without forcing them to happen and without rejecting the ones that don't fit your idea of what "should" be happening. See if you can sense the "spaces" through which you might move with no effort in the spirit of Chuang Tzu's cook. Notice how if you can make some time early in the day for being, with no agenda, it can change the quality of the rest of your day. By affirming first what is primary in your own being, see if you don't get a mindful jump on the whole day and wind up more capable of sensing, appreciating, and responding to the bloom of each moment.
Patience
TRY: Looking into impatience and anger when they arise. See if you can adopt a different perspective, one which sees things as unfolding in their own time. This is especially useful when you are feeling under pressure and blocked or stymied in something you want or need to do. Hard as it may seem, try not to push the river in that moment but listen carefully to it instead. What does it tell you? What is it telling you to do? If nothing, then just breathe, let things be as they are, let go into patience, continue listening. If the river tells you something, then do it, but do it mindfully. Then pause, wait patiently, listen again. As you attend the gentle flow of your own breathing during times of formal meditation practice, notice the occasional pull of the mind to get on to something else, to want to fill up your time or change what is happening. Instead of losing yourself at these times, try to sit patiently with the breath and with a keen awareness of what is unfolding in each moment, allowing it to unfold as it will, without imposing anything on it…just watching, just breathing…embodying stillness, becoming patience.
Letting Go
To let go means to give up coercing, resisting, or struggling, in exchange for something more powerful and wholesome which comes out of allowing things to be as they are without getting caught up in your attraction to or rejection of them, in the intrinsic stickiness of wanting, of liking and disliking.
Non-Judging
Imagine how it might feel to suspend all your judging and instead to let each moment be just as it
is, without attempting to evaluate it as "good" or "bad." This would be a true stillness, a true liberation.
A non-judging orientation certainly does not mean that you cease knowing how to act or behave responsibly in society, or that anything anybody does is okay. It simply means that we can act with much greater clarity in our own lives, and be more balanced, more effective, and more ethical in our activities, if we know that we are immersed in a stream of unconscious liking and disliking which screens us from the world and from the basic purity of our own being.
Trust
Trust is a feeling of confidence or conviction that things can unfold within a dependable framework that embodies order and integrity.
Generosity
TRY: Noticing the resistance to the impulse to give, the worries about the future, the feeling that you may be giving too much, or the thought that it won't be appreciated "enough," or that you will be exhausted from the effort, or that you won't get anything out of it, or that you don't have enough yourself. Consider the possibility that none of these are actually true, but that they are just forms of inertia, constriction, and fear-based self-protection. These thoughts and feelings are the rough edges of self-cherishing, which rub up against the world and frequently cause us and others pain and a sense of distance, isolation, and diminishment. Giving sands down such rough edges and helps us become more mindful of our inner wealth. By practicing mindfulness of generosity, by giving, and by observing its effects on ourselves and others, we are transforming ourselves, purifying ourselves, discovering expanded versions of ourselves.

Initiate giving. Don't wait for someone to ask. See what happens—especially to you. You may find that you gain a greater clarity about yourself and about your relationships, as well as more energy rather than less. You may find that, rather than exhausting yourself or your resources, you will replenish them. Such is the power of mindful, selfless generosity. At the deepest level, there is no giver, no gift, and no recipient…only the universe rearranging itself.
You Have to Be Strong Enough to Be Weak
If you are a strong-willed and accomplished person, you may often give the impression that you are invulnerable to feeling inadequate or insecure or hurt. This can be very isolating and ultimately cause you and others great pain. Other people will be all too happy to take in that impression and to collude in propagating it by projecting a Rock of Gibraltar persona onto you which doesn't allow you to have any real feelings. In fact, you can all too easily get out of touch with your own true feelings behind the intoxicating shield of image and aura. This isolation happens a lot to fathers in the nuclear family and to people in positions of relative power everywhere.

TRY: Recognizing the ways in which you meet obstacles with harshness. Experiment with being soft when your impulse is to be hard, generous when your impulse is to be withholding, open when your impulse is to close up or shut down emotionally. When there is grief or sadness, try letting it be here. Allow yourself to feel whatever you are feeling. Notice any labels you attach to crying or feeling vulnerable. Let go of the labels.
Voluntary simplicity
The impulse frequently arises in me to squeeze another this or another that into this moment. Just this phone call, just stopping off here on my way there. Never mind that it might be in the opposite direction.
It has me unavailable to others at those times, missing the play of light on the table, the smells in the room, the energies of the moment, including arguments and disputes, as we come together before going our separate ways for the day.

Voluntary simplicity means going fewer places in one day rather than more, seeing less so I can see more, doing less so I can do more, acquiring less so I can have more.

A commitment to simplicity in the midst of the world is a delicate balancing act. It is always in need of retuning, further inquiry, attention. But I find the notion of voluntary simplicity keeps me mindful of what is important, of an ecology of mind and body and world in which everything is interconnected and every choice has far-reaching consequences. You don't get to control it all. But choosing simplicity whenever possible adds to life an element of deepest freedom which so easily eludes us, and many opportunities to discover that less may actually be more.
Vision
TRY: Asking yourself why you meditate or why you want to meditate. Don't believe your first answers. Just write down a list of whatever comes to mind. Continue asking yourself. Also, inquire about your values, about what you honor most in life. Make a list of what is really important to you. Ask yourself: What is my vision, my map for where I am and where I am going? Does this vision reflect my true values and intentions? Am I remembering to embody those values? Do I practice my intentions? How am I now in my job, in my family, in my relationships, with myself? How do I want to be? How might I live my vision, my values? How do I relate to suffering, both my own and others'?
Meditation develops full human being
TRY: Being open to the prince and the princess, the king and the queen, the giant and the witch, the wild man and the wild woman, the dwarf and the crone, and the warrior, the healer, and the trickster within yourself. When you meditate, put the welcome mat out to all of them. Try sitting like a king or queen, or a warrior, or a sage. In times of great turmoil or darkness, use your breath as the string which will guide you through the labyrinth. Keep mindfulness alive even in the darkest moments, reminding yourself that the awareness is not part of the darkness or the pain; it holds the pain, and knows it, so it has to be more fundamental, and closer to what is healthy and strong and golden within you.
Practice as a path
TRY: Seeing your own life this very day as a journey and as an adventure. Where are you going? What are you seeking? Where are you now? What stage of the journey have you come to? If your life were a book, what would you call it today? What would you entitle the chapter you are in right now? Are you stuck here in certain ways? Can you be fully open to all of the energies at your disposal at this point? Note that this journey is uniquely yours, no one else's. So the path has to be your own. You cannot imitate somebody else's journey and still be true to yourself. Are you prepared to honor your uniqueness in this way? Can you see a commitment to the meditation practice as an intimate part of this way of being? Can you commit to lighting your path with mindfulness and awareness? Can you see ways in which you could easily get stuck, or have in the past?
Going inside
TRY: The next time you feel a sense of dissatisfaction, of something being missing or not quite right, turn inward just as an experiment. See if you can capture the energy of that very moment. Instead of picking up a magazine or going to the movies, calling a friend or looking for something to eat or acting up in one way or another, make a place for yourself. Sit down and enter into your breathing, if only for a few minutes. Don't look for anything—neither flowers nor light nor a beautiful view. Don't extol the virtues of anything or condemn the inadequacy of anything. Don't even think to yourself, "I am going inward now." Just sit. Reside at the center of the world. Let things be as they are.
Part 2 the heart of practice
Sitting meditation
TRY: Setting aside a time every day for just being. Five minutes would be fine, or ten or twenty or thirty if you want to venture that far. Sit down and watch the moments unfold, with no agenda other than to be fully present. Use the breath as an anchor to tether your
attention to the present moment. Your thinking mind will drift here and there, depending on the currents and winds moving in the mind until, at some point, the anchorline grows taut and brings you back. This may happen a lot. Bring your attention back to the breath, in all its vividness, every time it wanders. Keep the posture erect but not stiff. Think of yourself as a mountain.
Dignity
Pay attention to the present moment. Your thinking mind will drift here and there, depending on the currents and winds moving in the mind until, at some point, the anchorline grows taut and brings you back. This may happen a lot. Bring your attention back to the breath, in all its vividness, every time it wanders. Keep the posture erect but not stiff. Think of yourself as a mountain.
What to do with your hands
TRY: Being aware of subtle emotional qualities you may be embodying at various times of the day, as well as during your sitting practice. Pay particular attention to your hands. Does their position make a difference? See if you don't become more mindful by becoming more "bodyful." As you practice being more in touch with your hands in sitting meditation, see if this doesn't have an influence on the way you touch. Everything from opening a door to making love involves touch. It is possible to open a door so mindlessly that your hand doesn't know what your body is doing and you hit yourself in the head with it. Imagine the challenge of touching another person without automaticity, with no gaining idea, just presence and caring.
Coming out of meditation
TRY: Bringing awareness to how you end your meditations. Whether they are lying down, sitting, standing, or walking, zero in on "who" ends it, how it ends, when it ends, and why. Don't judge it or yourself in any way—just observe, and stay in touch with the transition from one thing to the next.
How long to practice
TRY: Sitting for varying lengths of clock time. See how it affects your practice. Does your concentration lapse as you sit longer? Do you get hung up in how much longer you "have" to be present? Does impatience come up at some point? Does the mind get reactive or obsessive? Is there restlessness? Anxiety? Boredom? Time pressure? Sleepiness? Dullness? If you are new to meditation, are you finding yourself saying, "This is stupid," or, "Am I doing it right?", or, "Is this all I am supposed to be feeling?" Do these feelings start right away or do they only come up after a while? Can you see them as mind states? Can you observe them without judging them or yourself for even brief periods? If you put the welcome mat out for them and investigate their qualities and let them be, you may learn a lot about what is strong and unwavering in yourself. And what is strong in you may become even stronger as you nourish inner stability and calmness.
No right way
TRY: Being aware of all the times in meditation when the thought comes up: "Am I doing this right?" "Is this what I should be feeling?" "Is this what is 'supposed' to happen?" Instead of trying to answer these questions, just look more deeply into the present moment. Expand your awareness in this very moment. Hold the question in awareness along with your breathing and with the full range of this particular moment's context. Trust that in this moment, "This is it," whatever and wherever "this" is. Looking deeply into whatever the "this" of the present moment is, keep up a continuity of mindfulness, allowing one moment to unfold into the next without analyzing, discoursing, judging, condemning, or doubting; simply observing, embracing, opening, letting be, accepting. Right now. Only this step. Only this moment.
The mountain meditation
TRY: Keeping this mountain image in mind as you sit in formal meditation. Explore its usefulness in deepening your capacity to dwell in stillness; to sit for longer periods of time; to sit in the face of adversity, difficulties, and storms or drabness in the mind. Ask yourself what you are learning from your experiments with this practice. Can you see some subtle transformation occurring in your attitude toward things that change in your life? Can you carry the mountain image with you in daily life? Can you see the mountain in others, and allow them their own shape and form, each mountain uniquely itself?
The lake meditation
TRY: Using the lake image to support sitting or lying in stillness, not going anywhere, held and cradled in awareness. Note when the mind reflects; when it is embroiled. Note the calm below the surface. Does this image suggest new ways of carrying yourself in times of turmoil?
Walking meditation
Try walking formally as well. Before or after you sit, try a period of walking meditation. Keep a continuity of mindfulness between the walking and the sitting. Ten minutes is good, or half an hour. Remember once again that it is not clock time we are concerned with here. But you will learn more and understand walking meditation more deeply if you challenge yourself to keep at it past your first or second impulse to stop.
Standing meditation
TRY: Standing like this wherever you find yourself, in the woods, in the mountains, by a river, in your living room, or just waiting for the bus. When you are alone, you might try opening your palms to the sky and holding your arms out in various positions, like branches and leaves, accessible, open, receptive, patient.
Lying down meditation
TRY: Tuning in to your breath when you find yourself lying down. Feel it moving in your entire body. Dwell with the breath in various regions of your body, such as the feet, the legs, the pelvis and genitals, the belly, the chest, the back, the shoulders, the arms, the throat and neck, the head, the face, the top of your head. Listen carefully. Allow yourself to feel whatever is present. Watch the sensations in the body flux and change. Watch your feelings about them flux and change. Try meditating on purpose lying down, not just around bedtime. Do it out of bed, on the floor, at different times of the day. Do it in fields and meadows on occasion, under trees, in the rain, in the snow. Bring particular attention to your body as you are going to sleep and as you are waking up. Even for a few minutes, stretch yourself out straight, on your back if possible, and just feel the body as a whole breathing. Give special attention to any regions that are problematic for you and work at letting the breath invite them back into a sense of membership and wholeness with the rest of your body. Keep your emotional body in mind. Honor "gut" feelings.
Getting your body on floor at least once a day
TRY: Getting down on the floor once a day and stretching your body mindfully, if only for three or four minutes, staying in touch with your breathing and with what your body is telling you. Remind yourself that this is your body today. Check to see if you are in touch with it.
Non practicing is practicing
TRY: Noticing the difference in how you feel and how you handle stress in periods when you are into the discipline of daily meditation and yoga practice and in periods of your life when you are not. See if you can become aware of the consequences of your more mindless and automatic behaviors, especially when they are provoked by pressures stemming from work or home life. How do you carry yourself in your body in those periods when you are practicing and when you are not? What happens to your commitment to remember non-doing? How does the lack of regular practice affect your anxiety about time and about achieving certain results? How does it affect your relationships? Where do some of your most mindless patterns come from? What triggers them? Are you ready to hold them in awareness as they grip you by the throat, whether your formal practice is strong this week or not? Can you see that not practicing is an arduous practice?
Loving kindness meditation
TRY: Touching base with feelings of loving kindness within yourself at some point in your meditation practice. See if you can get behind any objections you may have to this practice, or behind your reasons for being unlovable or unacceptable. Just look at all that as thinking. Experiment with allowing yourself to bathe in the warmth and acceptance of loving kindness as if you were a child held in a loving mother's or father's arms. Then play with directing it toward others and out into the world. There is no limit to this practice, but as with any other practice, it deepens and grows with constant attending, like plants in a lovingly tended garden. Make sure that you are not trying to help anybody else or the planet. Rather, you are simply holding them in awareness, honoring them, wishing them well, opening to their pain with kindness and compassion and acceptance. If, in the process, you find that this practice calls you to act differently in the world, then let those actions too embody loving kindness and mindfulness.
Part 3
Harmony
TRY: Drawing back the veil of unawareness to perceive harmony in this moment. Can you see it in clouds, in sky, in people, in the weather, in food, in your body, in this breath? Look, and look again, right here, right now!
Early morning
TRY: Making a commitment to yourself to get up earlier than you otherwise might. Just doing it changes your life. Let that time, whatever its length, be a time of being, a time for intentional wakefulness. You don't want to fill this time with anything other than awareness. No need to go over the day's commitments in your head and live "ahead" of yourself. This is a time of no-time, of stillness, of presence, of being with yourself. Also, at the moment of waking up, before getting out of bed, get in touch with your breath, feel the various sensations in your body, note any thoughts and feelings that may be present, let mindfulness touch this moment. Can you feel your breathing? Can you perceive the dawning of each in breath? Can you enjoy the feeling of the breath freely entering your body in this moment? Ask yourself: "Am I awake now?"
Direct contact
TRY: Thinking that your life is at least as interesting and miraculous as the moon or the stars. What is it that stands between you and direct contact with your life? What can you do to change that?
Wherever you go there you are
Have you ever noticed that there is no running away from anything? That, sooner or later, the things that you don't want to deal with and try to escape from, or paper over and pretend aren't there, catch up with you—
It is so much easier to find fault, to blame, to believe that what is needed is a change on the outside, an escape from the forces that are holding you back, preventing you from growing, from finding happiness. You can even blame yourself for it all and, in the ultimate escape from responsibility, run away feeling that you have made a hopeless mess of things, or that you are damaged beyond repair. In either case, you believe that you are incapable of true change or growth, and that you need to spare others any more pain by removing yourself from the scene.

There is always something to dislike. So why not let go and admit that you might as well be at home wherever you are? Right in that moment, you touch the core of your being and invite mindfulness to enter and heal. If you understand this, then and only then will the cave, the monastery, the beach, the retreat center, offer up their true richness to you. But so will all other moments and places.
Going upstairs
TRY: To use ordinary, repetitive occasions in your own house as invitations to practice mindfulness. Going to the front door, answering the telephone, seeking out someone else in the house to speak with, going to the bathroom, getting the laundry out of the dryer, going to the refrigerator, can all be occasions to slow down and be more in touch with each present moment. Notice the inner feelings which push you toward the telephone or the doorbell on the first ring. Why does your response time have to be so fast that it pulls you out of the life you were living in the preceding moment? Can these transitions become more graceful? Can you be more where you find yourself, all the time? Also, try being present for things like taking a shower, or eating. When you are in the shower, are you really in the shower? Do you feel the water on your skin, or are you someplace else, lost in thought, missing the shower altogether? Eating is another good occasion for mindfulness practice. Are you tasting your food? Are you aware of how fast, how much, when, where, and what you are eating? Can you make your entire day as it unfolds into an occasion to be present or to bring yourself back to the present, over and over again?
What is my job on this planet with capital j
You can start asking this question any time, at any age. There is never a time of life when it would not have a profound effect on your view of things and the choices you make. It may not mean that you will change what you do, but it may mean that you may want to change how you see it or hold it, and perhaps how you do it. Once the universe is your employer, very interesting things start to happen, even if someone else is cutting your paycheck. But you do have to be patient. It takes time to grow this way of being in your life. The place to start of course is right here. The best time? How about now?
Wholeness and oneness
When we are in touch with being whole, we feel at one with everything. When we feel at one with everything, we feel whole ourselves.